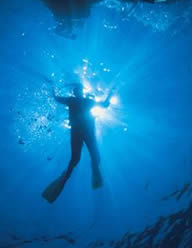 Scuba Shops Directory
Scuba diving is a great way to view the amazing world under the ocean. With the wide availability of scuba shops, diving schools, and instructors, even a beginner can enjoy the thrill of diving. Look for a school and scuba shops where there are four students or less per instructors. This ensures that you will get the instructor's full attention and is much safer in case there is an emergency situation in the water.
If you are a novice, hold off on purchasing your own scuba diving gear from nearby scuba shops until you are comfortable with the process and know what you will need from your equipment. Most scuba shops will also rent equipment, so this may be a more economical choice if you only plan to dive a few times per year. You will need basic scuba diving gear such as a scuba mask, wetsuit, swim fins, and all the equipment associated with the oxygen tank system. In addition to the tank itself, a regulator is necessary to convert the compressed air into a form that can be breathed in. Buoyancy compensators and cylinder belts are used to help the scuba diver adjust his or her position in the water.
Welcome New Companies:



Sea Dwellers Dive Center of Key Largo



We are a full service PADI/SSI Dive Center offering daily dive charters, Scuba Instruction, and Hotel packages in Key Largo, Florida Keys!...



Key Largo, FL
Latest Reviews:



Goin' Under Dive Services in Crawfordville, Fl
from Shane Fleeger
User Rating: 5 out of 5 stars I highly recommend Goin' Under! I needed to get my certification done quickly they made it happen. Les (my instru...Details
From Our Blog:
Scuba Diving Basics
Have you seen all of those nature shows on TV, where the people don a wetsuit, roll over the side of the boat and make look swimming with that gear effortless as they hold a camera? Sure, you'd like to do that, but it takes a lot more work in the beginning in order to make it look that easy. There are a lot of basics to learn in class before you can even get in the water with the gear, let alone... Continue Reading
Welcome new pro's!
Diver Down Diving Service in Morehead City, NC
D J'S Scuba Locker Inc in Lyons, IL
Jersey Scuba Inc in Oakhurst, NJ
Scuba North Inc in Traverse City, MI
Scuba Center of Inman in Inman, SC
Scuba Depot in Mineola, NY
Freedive Shop The in Hermosa Beach, CA
Ghost Fleet Dive Charters in Kill Devil Hills, NC
Scubaland Adventures South in Austin, TX
Dwr Marine Refinishing in Panama City, FL
Mc Cabe's Commercial Diving in Hastings, MN
Top Gunz Indoor Paint Ball & Pro Shop in Mcallen, TX
Divin' Dawgs Scuba in New Bern, NC
Scuba World in Sacramento, CA
Bamboo Reef Enterprises in San Francisco, CA