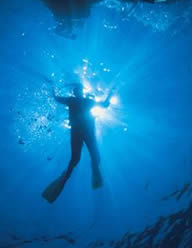 Scuba Shops Directory
Scuba diving is a great way to view the amazing world under the ocean. With the wide availability of scuba shops, diving schools, and instructors, even a beginner can enjoy the thrill of diving. Look for a school and scuba shops where there are four students or less per instructors. This ensures that you will get the instructor's full attention and is much safer in case there is an emergency situation in the water.
If you are a novice, hold off on purchasing your own scuba diving gear from nearby scuba shops until you are comfortable with the process and know what you will need from your equipment. Most scuba shops will also rent equipment, so this may be a more economical choice if you only plan to dive a few times per year. You will need basic scuba diving gear such as a scuba mask, wetsuit, swim fins, and all the equipment associated with the oxygen tank system. In addition to the tank itself, a regulator is necessary to convert the compressed air into a form that can be breathed in. Buoyancy compensators and cylinder belts are used to help the scuba diver adjust his or her position in the water.
Welcome New Companies:



Anchor Bay Scuba Training



Anchor Bay Scuba located in Fairhaven, Michigan is a PADI 5 Star facility with in store pool; offering SCUBA diving classes, equipment sales, repair a...



Fair Haven, MI
Latest Reviews:



Aqua Diving Academy in Portland, ME
from Candi S.
AWFUL people working there, in particular a little white-gray haired guy with some kind of Napoleonic control-freak mental issue resulting in extreme ...Details
From Our Blog:
Scuba Diving Basics
Have you seen all of those nature shows on TV, where the people don a wetsuit, roll over the side of the boat and make look swimming with that gear effortless as they hold a camera? Sure, you'd like to do that, but it takes a lot more work in the beginning in order to make it look that easy. There are a lot of basics to learn in class before you can even get in the water with the gear, let alone... Continue Reading
Welcome new pro's!
Sink OR Swim Scuba in Charlotte, NC
Driver's Direct in Clearwater, FL
Longe Optical - North in Fort Wayne, IN
Mac's Sports in Tampa, FL
Tropical Scuba in Jacksonville, FL
Aquas Sports in Saint George, UT
Divers Down Inc in Fort Lauderdale, FL
American Water Sports-Virginia in Falls Church, VA
Quarry Divers Inc - Scuba Air Service in Gibsonburg, OH
Diver Dan's in Santa Clara, CA
Upstate Scuba in Clemson, SC
Bruce's Dive Shop in New Iberia, LA
Smith Scuba Service in Piscataway, NJ
Champlain Dive Center in Plattsburgh, NY
Florida Scuba Repair in Sarasota, FL