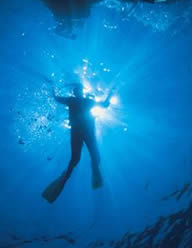 Scuba Shops Directory
Scuba diving is a great way to view the amazing world under the ocean. With the wide availability of scuba shops, diving schools, and instructors, even a beginner can enjoy the thrill of diving. Look for a school and scuba shops where there are four students or less per instructors. This ensures that you will get the instructor's full attention and is much safer in case there is an emergency situation in the water.
If you are a novice, hold off on purchasing your own scuba diving gear from nearby scuba shops until you are comfortable with the process and know what you will need from your equipment. Most scuba shops will also rent equipment, so this may be a more economical choice if you only plan to dive a few times per year. You will need basic scuba diving gear such as a scuba mask, wetsuit, swim fins, and all the equipment associated with the oxygen tank system. In addition to the tank itself, a regulator is necessary to convert the compressed air into a form that can be breathed in. Buoyancy compensators and cylinder belts are used to help the scuba diver adjust his or her position in the water.
Welcome New Companies:



Dive Rescue International



Dive Rescue International provides training, equipment and technical support to public safety dive teams worldwide, since 1977....



Fort Collins, CO
Latest Reviews:



Water World in Durham, NC
from reverse osmosis membrane
Wonderful work! This is the kind of information that are meant to be shared around the internet. Disgrace on Google for now not positioning this put u...Details
From Our Blog:
Renting vs Buying Scuba Diving Gear
As with any other hobby or recreation event, you need certain tools in order to do it. With scuba diving, not only do you need tools, but you need classes on how to scuba dive properly. If you don't have instruction on the tools, you might not be allowed in the water. Or if you do go in the water with the gear and without proper instruction, you could be taking your life in to your own hands.... Continue Reading
Welcome new pro's!
Underseas Scuba Center Inc in Villa Park, IL
Sea Hunt Scuba in Saint Augustine, FL
B C Xtreme Sports Dive Center in South Boston, VA
Kids Sea Camp in Columbia, SC
Iahd Americas Inc in Franconia, PA
Dudas Diving Duds in West Chester, PA
International Divers Inc in Orlando, FL
Ocean Odyssey Scuba Inc in Vancouver, WA
Blue Ocean Divers LLC in Vestal, NY
American Divers INTL Inc in Merritt Island, FL
Ghost Fleet Dive Charters in Kill Devil Hills, NC
Big Kahuna Scuba in Grayslake, IL
Bauer Compressors Miami in Fort Lauderdale, FL
Hernando Cardona PADI Dive in Pompano Beach, FL
Scuba Shop LLC in Roswell, NM