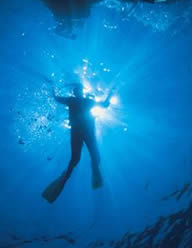 Scuba Shops Directory
Scuba diving is a great way to view the amazing world under the ocean. With the wide availability of scuba shops, diving schools, and instructors, even a beginner can enjoy the thrill of diving. Look for a school and scuba shops where there are four students or less per instructors. This ensures that you will get the instructor's full attention and is much safer in case there is an emergency situation in the water.
If you are a novice, hold off on purchasing your own scuba diving gear from nearby scuba shops until you are comfortable with the process and know what you will need from your equipment. Most scuba shops will also rent equipment, so this may be a more economical choice if you only plan to dive a few times per year. You will need basic scuba diving gear such as a scuba mask, wetsuit, swim fins, and all the equipment associated with the oxygen tank system. In addition to the tank itself, a regulator is necessary to convert the compressed air into a form that can be breathed in. Buoyancy compensators and cylinder belts are used to help the scuba diver adjust his or her position in the water.
Welcome New Companies:



Anchor Bay Scuba Inc.



We are a one stop shop for scuba. Instore pool Instructor Don Wrona who has taught PADI for 31 years. All inclusive lessons, open water to Dive ma...



Fair Haven, MI
Latest Reviews:



Mar-Vel Underwater Equipment Inc in Collingswood, NJ
from Mark Brill
Mar-Vel has not been in that location for over 10 years. They are now at Airport Rd in Pennsauken. It is a good shop with helpful people, but they n...Details
From Our Blog:
Scuba Diving Safety Tips
Scuba diving is a hobby enjoyed by tens of thousands of people each year without incident. However, to prevent incident, these people have had hours of training and instruction on how to do it the right way and how to use the instruments needed to dive. If you have never been on a dive before, there are certain things you need to consider before you step over the side of the boat with equipment... Continue Reading
Welcome new pro's!
Scuba Bill's Dive & Travel in New Iberia, LA
Wateree Dive Center Inc in Columbia, SC
Splashdown Divers in Boynton Beach, FL
Aqua Specialists in Cleveland, OH
D & D Divers Supply in New London, CT
Bubble Seekers LLC in Agoura Hills, CA
Washington Divers in Bellingham, WA
Mermet Springs Inc in Vienna, IL
Nags Head Diving in Manteo, NC
Aqua Hut in Toledo, OH
Dars Divers in New Castle, CO
SS Dive Inc in Rockville Centre, NY
Diving Enterprises Limited in Salem, VA
Tri-Lakes Houseboat Rentals in Kimberling City, MO
Hilltop Diving in Schwenksville, PA