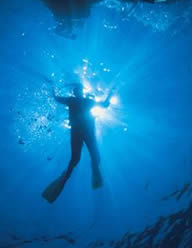 Scuba Shops Directory
Scuba diving is a great way to view the amazing world under the ocean. With the wide availability of scuba shops, diving schools, and instructors, even a beginner can enjoy the thrill of diving. Look for a school and scuba shops where there are four students or less per instructors. This ensures that you will get the instructor's full attention and is much safer in case there is an emergency situation in the water.
If you are a novice, hold off on purchasing your own scuba diving gear from nearby scuba shops until you are comfortable with the process and know what you will need from your equipment. Most scuba shops will also rent equipment, so this may be a more economical choice if you only plan to dive a few times per year. You will need basic scuba diving gear such as a scuba mask, wetsuit, swim fins, and all the equipment associated with the oxygen tank system. In addition to the tank itself, a regulator is necessary to convert the compressed air into a form that can be breathed in. Buoyancy compensators and cylinder belts are used to help the scuba diver adjust his or her position in the water.
Welcome New Companies:



Aquatech Scuba Center



We are dive professionals that specialize in scuba training,Trips and Dive equipment...



Evansville, In
Latest Reviews:



Landlocked Divers in Lewiston, ID
from Tracie B
I agree with GayLynn. I took my Open Water with Landlocked Divers and the experience was top notch. They are wonderful instructors, fun but they tak...Details
From Our Blog:
Scuba Diving Safety Tips
Scuba diving is a hobby enjoyed by tens of thousands of people each year without incident. However, to prevent incident, these people have had hours of training and instruction on how to do it the right way and how to use the instruments needed to dive. If you have never been on a dive before, there are certain things you need to consider before you step over the side of the boat with equipment... Continue Reading
Welcome new pro's!
Anchor Scuba in Coconut Creek, FL
Barrett Optical Inc in Dallas, TX
Ocean Management Systems Inc in Middletown, NY
Scuba Unlimited in Cincinnati, OH
Scuba Check in Atlanta, GA
Devil's Den Diving Inc in Williston, FL
Dive World in Austin, TX
Professional Scuba Inc in Houston, TX
Scrub World in Denison, TX
CAPT Vicki Impallomeni in Key West, FL
Underwater Schools of America in Oceanside, CA
Reefpoint Diving Center Limited in Racine, WI
Divers Equipment & Repair Service in Kansas City, MO
Under Seas Inc in Big Pine Key, FL
Scuba Adventures by Ed Spencer in Randolph, NJ