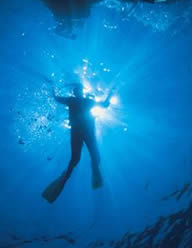 Scuba Shops Directory
Scuba diving is a great way to view the amazing world under the ocean. With the wide availability of scuba shops, diving schools, and instructors, even a beginner can enjoy the thrill of diving. Look for a school and scuba shops where there are four students or less per instructors. This ensures that you will get the instructor's full attention and is much safer in case there is an emergency situation in the water.
If you are a novice, hold off on purchasing your own scuba diving gear from nearby scuba shops until you are comfortable with the process and know what you will need from your equipment. Most scuba shops will also rent equipment, so this may be a more economical choice if you only plan to dive a few times per year. You will need basic scuba diving gear such as a scuba mask, wetsuit, swim fins, and all the equipment associated with the oxygen tank system. In addition to the tank itself, a regulator is necessary to convert the compressed air into a form that can be breathed in. Buoyancy compensators and cylinder belts are used to help the scuba diver adjust his or her position in the water.
Welcome New Companies:



Fanta-Sea Divers



Fanta-Sea Divers is a full service PADI dive center. We are able to service your TUSA gear but can send most other brands off for service. We teach op...



Madison, Ga
Latest Reviews:



Ocean Sports of Lompoc in Lompoc, CA
from Marshal S.
Shaun & Kim are the very best at what they do, they take the store and their customers to heart. Do not look anywhere else for scuba lessons, photogr...Details
From Our Blog:
Scuba Diving Hot Spots
Once you consider learning how to scuba dive, you will probably want to schedule a trip where you can actually go and use your skills. Or maybe it is the other way around – you know where and when you are going on vacation, so you are working on your scuba diving skills in order to get certified to take several scuba adventures in while you are gone. No matter which option sounds more like you,... Continue Reading
Welcome new pro's!
Bonical Remover Guy in Pensacola, FL
Extreme Scuba LLC in Garland, TX
Any Where in Woodstock, GA
Dive World Scuba & Swim Center in San Antonio, TX
Another World Diver Supply in Dearborn Heights, MI
St Croix Scuba & Snorkeling in Hudson, WI
Underwater Sports Adventure in Saint Cloud, MN
Grove Scuba in Miami, FL
Nuvair in Oxnard, CA
Indian PT Boat D in Branson, MO
Dive Rite in Lake City, FL
Diver Dave's in Hayward, WI
Above Reading Skydiving in Allentown, PA
Odyssey Diving in Clarkston, WA
Discount Divers Bed and Breakfast in Marathon, FL